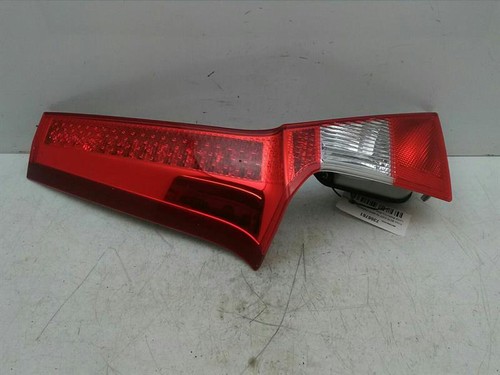 Click here to see similar items on eBay, and to buy.
Welcome to Motorhog – Car Parts, Car Sales, Online Salvage Auction2013 Volvo XC70 MK2 2.4 Estate LH NS Passenger Side Rear Inner Lamp Light PART:
2013 Volvo XC70 MK2 2.4 Estate LH NS Passenger Side Rear Inner Lamp Light

PART NUMBER/MAKE:
7366761


ADDITIONAL COMMENTS:



WARRANTY (PARTS ONLY):
3 MONTHS FREE
6 MONTHS AN ADDITIONAL 10% OF BUY IT NOW PRICE
12 MONTHS AN ADDITIONAL 20% OF BUY IT NOW PRICE
NO WARRANTY INCLUDED ON CORE UNITS (ENGINES & GEARBOXES)
WE DO NOT OFFER EXTENDED WARRANTIES ON PARTS THAT HAVE BEEN ACCEPTED AS A BEST OFFER

FAILURE TO SUPPLY ANY EXCHANGE ENGINES OR GEARBOXES WILL INVALIDATE YOUR WARRANTY

WE DO NOT COVER ANY LABOUR COSTS

EXCHANGES:
ENGINES, GEARBOXES & DPFs/CATs ARE SOLD ON AN EXCHANGE BASIS PLEASE MESSAGE US THROUGH EBAY AND WE WILL COLLECT THE CORE UNIT FREE OF CHARGE

RETURNS:
ALL RETURNS MUST BE PROCESSED THROUGH EBAY

IF YOU WOULD LIKE TO REQUEST A RETURN:
1. FIND OUR ITEM IN YOUR PURCHASE HISTORY
2. SELECT OPTION (RETURN THIS ITEM)
3. SELECT CORRECT REASON FOR RETURN
4. CLICK (REQUEST RETURN)

IF REGISTRATION IS NOT SUPPLIED UPON REQUEST AND PART IS ORDERED INCORRECTLY WE CANNOT COVER ANY POSTAGE/LABOUR COSTS

POSTAGE:
FREE 48 HOUR UK MAINLAND DELIVERY ONLY 24 HOUR DELIVERY IS AVAILABLE ON MOST PARTS AT EXTRA COST AT CHECKOUT

ANY PARTS ORDERED FOR COLLECTION WITH ARGOS CLICK & COLLECT PLEASE BE AWARE THAT ANY ITEM EXCEEDING 20kg AND/OR 120cm X 76cm WILL NOT BE ACCEPTED BY ARGOS

A NUMBER OF POSTCODES ARE EXCLUDED FROM OUR UK MAINLAND FREE 48 HOUR SHIPPING OPTION INSTEAD, YOU WILL NEED TO REQUEST A DELIVERY QUOTE FOR THE FOLLOWING POSTCODE AREAS:

AB 30-38 44-56 SCOTTISH HIGHLANDS
BT ALL NORTHERN IRELAND
EI ALL REPUBLIC OF IRELAND
FK 17-99 SCOTTISH HIGHLANDS
G 83 SCOTTISH HIGHLANDS
GY ALL CHANNEL ISLANDS
HS 1-9 SCOTTISH ISLANDS
IM ALL ISLE OF MAN
IV 1-28 30-39 52-54 63 SCOTTISH HIGHLANDS
IV 40-51 55-56 SCOTTISH ISLANDS
JE ALL CHANNEL ISLANDS
KA 27 SCOTTISH ISLANDS
KW 1-14 SCOTTISH HIGHLANDS
KW 15-17 SCOTTISH ISLANDS
PA 21-33 34-40 SCOTTISH HIGHLANDS
P 20 41-49 60-78 SCOTTISH ISLANDS
PH 15-26 30 31-41 49-50 SCOTTISH HIGHLANDS
PH 42-44 SCOTTISH ISLANDS
PO 30-41 ISLE OF WIGHT
TR 21-25 SCILLY ISLES
ZE 1-3 SCOTTISH ISLANDS

ALL PARTS ARE SUPPLIED WITH A VAT INVOICE
AspirationTurbo with IntercoolerBHP215BhpBody Shape5 Door EstateConditionusedEngine5 Cyl 20vEngine Capacity2.4Engine CodeD5244T15Fuel TypeDieselManufacturerVolvoMileage151887ModelXC70 2007 To 2013Part ColourWHITEPart DescriptionLamp Assembly Rear Inner LHTag Number7366761Transmission Speed6 SpeedTransmission TypeAutomaticTrimES D5 AWDVehicle ColourWHITEYear2013View listed parts from the same vehicle
Click hereSalvageVehicleID:2027265View listed parts from equivalent vehicles
Click hereDerivatvieID:37715About UsSince its founding in 1939, Motorhog has become one of the UK's leading dismantling and salvage specialists. The company has developed and expanded considerably over the years. It now employs over 250 full-time staff and turns over several million pounds per year whilst still remaining an independent and privately owned company.Presently our operation occupies over 105 acres spread across 20 sites. This much space is required to store the 8000+ vehicles in stock at any one time.Recently we have invested over 3,000,000 in all our sites throughout the UK. We have bought specialist dismantling and de-polluting equipment capable of handling over 500 vehicles per day , well equipped workshops, 7 balers each capable of handling 100 vehicles per day, a vehicle repair centre and 25,000 square feet of racking which holds our stock of over 100,000 vehicle components. Motorhog has the capacity to handle over 80,000 vehicles per annum.All used parts are sold with the company's money back guarantee and we now offer next day delivery on parts whether locally by our own fleet or nationwide using a contracted courier service.We are a member of the N.S.G. – National Salvage Group a leader in its field of contract salvage buying. Its member companies handle over 100,000 vehicles per year offering nationwide coverage to insurance companies. PaymentWe accept payment by: Paypal. Debit Card (surcharge may apply) and BACS.ShippingAll our goods listed are in stock and ready for dispatch. We use a range of professional shipping companies and will take care packaging your item to reduce the risk of damage in transit.
PLEASE NOTE: Any postage included in our listings is for the mainland UK and does not include the postcodes listed below. These are Special Domestic Regions. The buyer must contact us for a quote before paying for the items. Items will not be shipped unless the correct postage has been paid for the particular destination post code.RegionPostcodeChannel IslandsAll postcodes containing GY and JEIsle of ManAll postcodes containing IMScilly IslesTR21-TR25Scottish IslandsHS1-HS9
IV41-IV49 / IV51 / IV55-IV56
KW15-KW17 / KA27-KA28
PA20 / PA41-PA49 / PA60-PA78
PH42-PH44
ZE1-ZE3 Scottish HighlandsKW1-KW14
IV1-IV40 / IV52-IV54 / IV63
PA21-PA38 / PA80
PH16-PH26 / PH30-PH41 / PH49-PH50Northern IrelandAll postcodes containing BTIsle of WightPO30-PO41OtherAnywhere other than the mainland UK
and not mentioned in this tableTerms of SaleALL PARTS GUARANTEED FOR 30 DAYS (unless otherwise agreed in writing )
If any part supplied by ourselves proves to be faulty during this period, it may be returned to us to exchange. If no exchange is available within 48 hours a refund will be given. The term engine refers to the cylinder head & block and the components that make these up i.e. pistons, cam shaft etc. any ancillaries left on the engine e.g. water pump, cam belt (we always recommend the fitting of a new cam belt) are given free of charge and are not covered by this guarantee. Gaskets & oil seals are not covered. This guarantee covers parts only. It does not cover any labour charges or from any fault arising from the fitting of this part. This guarantee is void If any part supplied has been tampered with in any way i.e. seal broken, taken apart etc. This guarantee does not affect your statutory rights. Mail Order: under selling regulations a Private Consumer has a 7 day cooling off period in which he/she may return the goods to us for a refund. However, delivery is a separate contract and once completed, is non-refundable. Goods once signed for, are to be returned at the Customers Expense. Title to the goods shall remain with Motorhog Ltd. (until paid for in full).PART: 2013 Volvo XC70 MK2 2.4 Estate LH NS Passenger Side Rear Inner Lamp LightPART NUMBER/MAKE:7366761ADDITIONAL COMMENTS:WARRANTY (PARTS ONLY):3 MONTHS FREE6 MONTHS AN ADDITIONAL 10% OF BUY IT NOW PRICE12 MONTHS AN ADDITIONAL 20% OF BUY IT NOW PRICENO WARRANTY INCLUDED ON CORE UNITS (ENGINES & GEARBOXES)WE DO NOT OFFER EXTENDED WARRANTIES ON PARTS THAT HAVE BEEN ACCEPTED AS A BEST OFFERFAILURE TO SUPPLY ANY EXCHANGE ENGINES OR GEARBOXES WILL INVALIDATE YOUR WARRANTY WE DO NOT COVER ANY LABOUR COSTSEXCHANGES:ENGINES, GEARBOXES & DPFs/CATs ARE SOLD ON AN EXCHANGE BASIS PLEASE MESSAGE US THROUGH EBAY AND WE WILL COLLECT THE CORE UNIT FREE OF CHARGERETURNS:ALL RETURNS MUST BE PROCESSED THROUGH EBAYIF YOU WOULD LIKE TO REQUEST A RETURN:1. FIND OUR ITEM IN YOUR PURCHASE HISTORY2. SELECT OPTION (RETURN THIS ITEM)3. SELECT CORRECT REASON FOR RETURN4. CLICK (REQUEST RETURN)IF REGISTRATION IS NOT SUPPLIED UPON REQUEST AND PART IS ORDERED INCORRECTLY WE CANNOT COVER ANY POSTAGE/LABOUR COSTSPOSTAGE:FREE 48 HOUR UK MAINLAND DELIVERY ONLY 24 HOUR DELIVERY IS AVAILABLE ON MOST PARTS AT EXTRA COST AT CHECKOUTANY PARTS ORDERED FOR COLLECTION WITH ARGOS CLICK & COLLECT PLEASE BE AWARE THAT ANY ITEM EXCEEDING 20kg AND/OR 120cm X 76cm WILL NOT BE ACCEPTED BY ARGOSA NUMBER OF POSTCODES ARE EXCLUDED FROM OUR UK MAINLAND FREE 48 HOUR SHIPPING OPTION INSTEAD, YOU WILL NEED TO REQUEST A DELIVERY QUOTE FOR THE FOLLOWING POSTCODE AREAS:AB 30-38 44-56 SCOTTISH HIGHLANDSBT ALL NORTHERN IRELANDEI ALL REPUBLIC OF IRELANDFK 17-99 SCOTTISH HIGHLANDSG 83 SCOTTISH HIGHLANDSGY ALL CHANNEL ISLANDSHS 1-9 SCOTTISH ISLANDSIM ALL ISLE OF MAN IV 1-28 30-39 52-54 63 SCOTTISH HIGHLANDSIV 40-51 55-56 SCOTTISH ISLANDSJE ALL CHANNEL ISLANDSKA 27 SCOTTISH ISLANDSKW 1-14 SCOTTISH HIGHLANDSKW 15-17 SCOTTISH ISLANDSPA 21-33 34-40 SCOTTISH HIGHLANDSP 20 41-49 60-78 SCOTTISH ISLANDSPH 15-26 30 31-41 49-50 SCOTTISH HIGHLANDSPH 42-44 SCOTTISH ISLANDSPO 30-41 ISLE OF WIGHTTR 21-25 SCILLY ISLESZE 1-3 SCOTTISH ISLANDSALL PARTS ARE SUPPLIED WITH A VAT INVOICE
Click here to buy, and to see similar items on eBay
---
Category: Vehicle Parts and Accessories:Car Parts:External Lights and Indicators:Rear Light Assemblies
Location: Cinderford