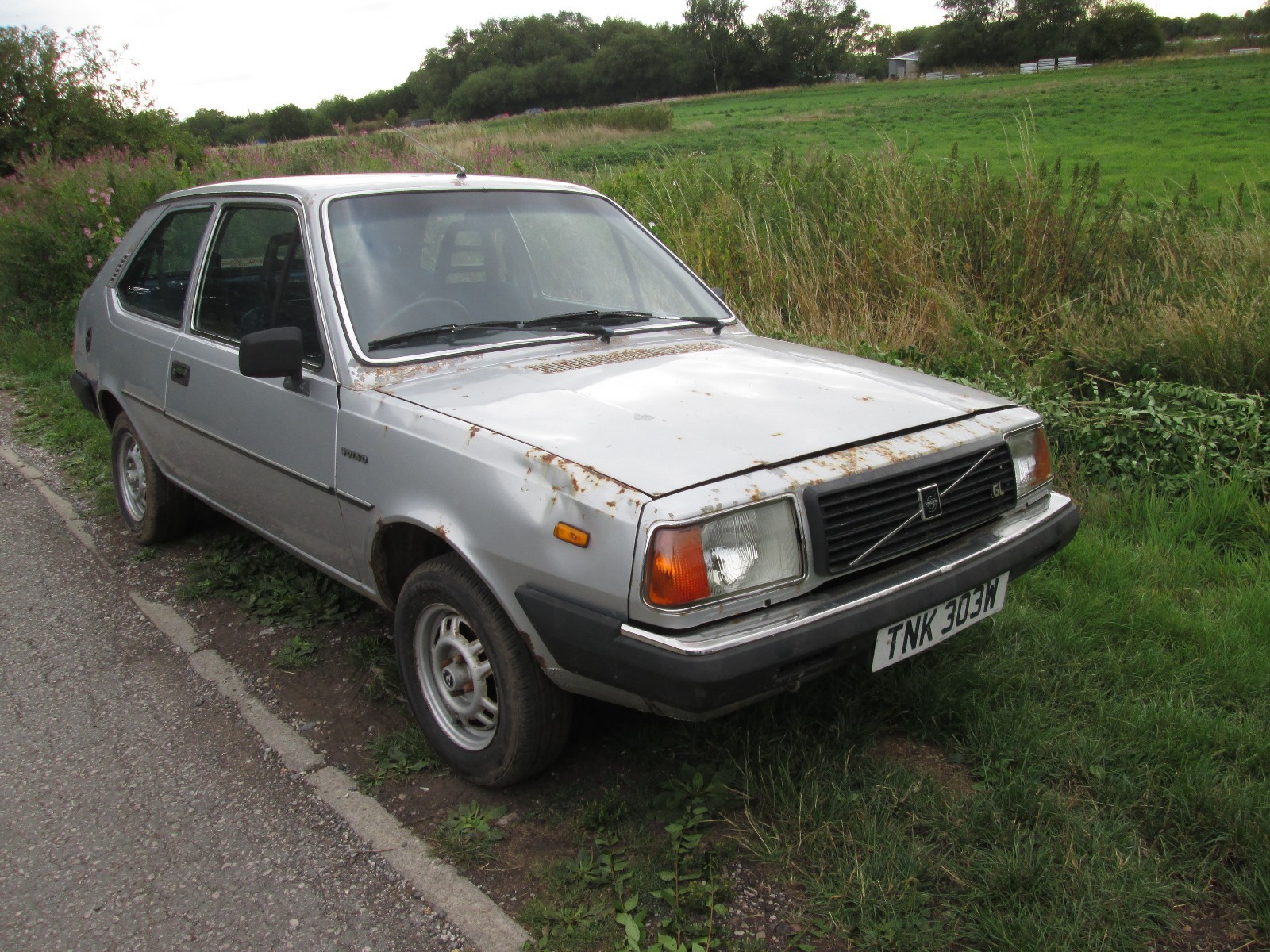 Click here to see similar items on eBay, and to buy.
Here I have an entire 3 door Volvo 343 DL for sale. See my Flickr page (robsue888) for extra images.
MoT'd in May, but never insured by me so not moved (other than the odd re-arrange) since then so suggest trailering away, can be test driven as I live on a private road.It has what I'd term the rat look, unsure how it can so battered outside as the interior is A1During my timecollecting the marque I have collated 11 300s and also a huge amount of spareshave been amassed. Alas family health issues, including my own arthritis (at 48tut) means tinkering isnt the fun it once was so – I'm keeping my1989 GLT saloon, but otherwise I have all these for sale:  1,       1,815        a 1979 343DL (only 8000 miles and MoT'd) NOWSOLD2,       1,000         a1981 343GL (MoT'd in May, tatty outside [or rat look] but A1 inside)3,      1,062          a 1982 DL, already here on ebayas an experimental artwork (currently has a hunting problem) NOW SOLD4,         885          a 1982 GL(MoT'd in July and was my runabout in June and July, has wrong water pump, butright one with new temp/ warning light sender included)5,         662         a 1983 modelGLT (needs a lot of work)6,       1,100        a 1984 GLT (needs gear selector attention)7,         550         a 1985 GL SE,needs vast amount of work but has that dashboard 8,       1,139        a 1986 340 GL (newly prepped and MoTd at great timecost already here on ebay) NOW SOLD9,         587         a 1987 GLT(needs some work)10,        958         a 1990340 GL (MoT'd in July and my current local runabout still smells new inside)And     3,700 awhole shed full of parts, spare wings, tailgates, bonnets, bumpers and doors.Mk 1 nose cones and mk2 below grill panels. Starter motors, alternators, carbs,distributors, remix units, rubber hoses, radiators, injection brains, airflowmeters, GLT wheels (early and later), door cards, parcel shelves, seats,seatbelts, chrome trim, steering racks, locks and ignition keys, relays andswitches. Headlights, taillights, indicators, no plate lights, dashboards,stalks, heater resistances (with new trips) and heater matrixes. Wiper motorsand arms. Autobox vacuum parts. Badges and grills. Volvo side and bumperstripes.  A pair of CVT belts. Some door glass. Handbooks for mostyears, handbrake levers, aerials and radios. Window winder mechanisms andwinder handles, door handles and wiper mechanisms too.Partsprice based on broad valuation (just over 2,600 items)0                say 10% worthnothing       2601,300          say 1% worth 50              261,300          say 2%worth 25               521,131          restworth say 50p           2262I can bequite flexible on some prices, and may split the parts stock up A BIT butmight have to stick to my guns on certain prices too, it is always worth askingisnt it.
If you have a parts need, or the carsare of interest, then get in touch and I will list them to comply with ebayrules.Thanks for looking.Make me an offer, you might besurprised!Collection only but I am a full time carer so I am nearly always infor collection, however because of that only mornings are do-able for me.Please ONLY cash on collection, any PayPal transactions will be cancelledTheusual blurb; I dont really have a returns policy but if you have a problemIll try and resolve it on an individual basis.
Click here to buy, and to see similar items on eBay
---
Category: Vehicle Parts and Accessories:Car Parts:Other Car Parts
Location: St. Helens