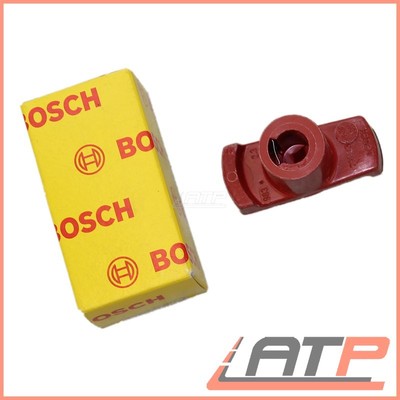 Click here to see similar items on eBay, and to buy.
Quality products Vast range of products Fast delivery 180 days right of return Money-back guarantee 303f38z0h88 Shop home About us FAQ Data Privacy Protection Shipping costs OFFER 1x Genuine BOSCH Ignition distributor rotor Vehicle type
Suitable for all models mentioned in the vehicle list!Items included
1x Genuine BOSCH 1234332350 Ignition distributor rotorRestrictions
Before purchasing, please check the restrictions in the vehicle list!
Before purchasing it is essential that you note any restrictions concerning engine number / engine code in the vehicle table.
An explanation of the engine number / engine code can be found in our FAQ section 1.5.
Before purchasing it is essential that you note any restrictions concerning chassis numbers in the vehicle table!
An explanation of the chassis number can be found in our FAQ section 1.6.Technical information
Ignition distributor rotor
Holder diameter: 10,2
For manufacturer: SYSTEM BOSCH
Mounting type: Plug type
Resistance [Ohm]: 1000Additional information
1x Genuine BOSCH Ignition distributor rotor
For steering manufacturer: SYSTEM BOSCH
Material: Polyester
Holder : 10,2
Mounting Type: Plugged
Resistance: 1000Warranty
Our Promise of Quality: 3 year warranty on the functionality and fitting accuracy
…to our warranty provisions QUALITY PRODUCT – NEW – READY TO FIT NO RISK!
180 DAYS RETURN POLICY* GUARANTEED
FREE RETURN *Our return policy terms can be found in our customer information Information on our invoices Please note that you will receive your invoice as a PDF document by email. Therefore, please check your email inbox and as the case may be your spam folder. By saving consumables like paper and ink/toners valuable environmental resources are protected. In addition, you do no longer have to make the effort to store, file and look for your invoice. Please note the restrictions on the following vehicle models
Make and Model
Type
Year
KW
HP
ccm
RestrictionsALFA ROMEO 33 (907A_) 1.4 i.e. (907.A3A, 907.A3B) 06.91 – 09.9465881351ALFA ROMEO 33 (907A_) 1.5 i.e. (907A2A) 07.90 – 08.91741011490ALFA ROMEO 33 (907A_) 1.7 i.e. (907.A1A) 01.90 – 09.94791071712Engine Code: AR 30737
Until year: 03/1992ALFA ROMEO 33 Sportwagon (907B_) 1.5 i.e 01.90 – 09.9471971490Until year: 03/1992ALFA ROMEO 33 Sportwagon (907B_) 1.7 i.e. (907.B1A) 01.90 – 03.92791071712Engine Code: AR 30737ALFA ROMEO 33 Sportwagon (907B_) 1.7 i.e. (907.B1A) 04.92 – 09.94771051712ALFA ROMEO 33 Sportwagon (907B_) 1.7 i.e. 4×4 (907.B1E) 01.90 – 03.92791071712From year: 07/1990
From year: 07/1990ALFA ROMEO 75 (162B_) 1.8 Turbo (162.B1C, 162.B1D, 162.B1G) 09.86 – 02.921101501779Until year: 01/1990
Until year: 01/1990ALFA ROMEO 75 (162B_) 1.8 Turbo i.e. (162.B1E) 02.86 – 01.901141551779Until year: 12/1987AUDI 100 (4A2, C4) 2.0 12.90 – 07.94741001984AUDI 100 (4A2, C4) 2.0 E 12.90 – 07.94851151984AUDI 100 (4A2, C4) 2.0 E quattro 12.90 – 07.92851151984AUDI 100 Avant (4A5, C4) 2.0 E 09.91 – 07.94741001984Until year: 07/1993AUDI 100 Avant (4A5, C4) 2.0 E 09.91 – 07.94851151984From year: 01/1993
Engine Code: ABKAUDI 100 Avant (4A5, C4) 2.0 E quattro 12.90 – 07.92851151984AUDI 80 (81, 85, B2) 1.8 GTE 08.85 – 07.86811101781AUDI 80 (81, 85, B2) 1.8 GTE quattro (85Q) 03.85 – 08.86811101781AUDI 80 (89, 89Q, 8A, B3) 1.8 09.86 – 07.88831131847AUDI 80 (89, 89Q, 8A, B3) 1.8 quattro 09.86 – 08.90831131847Until yearAUDI 80 (89, 89Q, 8A, B3) 1.8 S quattro 09.86 – 09.9166901781Engine Code: PM
Engine Code: PM
From year: 08/1990
From Ch.No.: 8A-M-000001AUDI 80 (89, 89Q, 8A, B3) 2.0 10.90 – 08.91821121984AUDI 80 (89, 89Q, 8A, B3) 2.0 E 08.88 – 10.90831131984AUDI 80 (89, 89Q, 8A, B3) 2.0 E quattro 08.88 – 09.90831131984AUDI 80 (89, 89Q, 8A, B3) 2.0 quattro 10.90 – 08.91851151984AUDI 80 (89, 89Q, 8A, B3) 2.0 quattro 08.88 – 07.90821121984AUDI 80 (8C2, B4) 1.6 09.91 – 12.9452711595Until year: 08/1994
For steering manufacturer: BoschAUDI 80 (8C2, B4) 1.6 E 06.93 – 12.94741011595AUDI 80 (8C2, B4) 2.0 09.91 – 12.9466901984For steering manufacturer: BoschAUDI 80 (8C2, B4) 2.0 E 09.91 – 12.94851151984AUDI 80 (8C2, B4) 2.0 E quattro 09.91 – 12.94851151984AUDI 80 Avant (8C5, B4) 1.6 E 06.93 – 01.96741011595Until year: 07/1995AUDI 80 Avant (8C5, B4) 2.0 07.92 – 01.9666901984Until year: 06/1995AUDI 80 Avant (8C5, B4) 2.0 E 07.92 – 01.96851151984Until year: 07/1995AUDI A4 (8D2, B5) 1.6 11.94 – 10.00741001595Engine Code: ADP
Until year: 10/1996AUDI A4 Avant (8D5, B5) 1.6 11.94 – 09.01741001595Engine Code: ADP
Until year: 10/1996AUDI A6 (4A2, C4) 2.0 06.94 – 10.97741001984Until year: 08/1996
Until year: 08/1996AUDI A6 (4A2, C4) 2.0 06.94 – 10.97851151984Until year: 08/1996
Until year: 08/1996AUDI A6 Avant (4A5, C4) 2.0 06.94 – 12.97851151984Until year: 06/1996AUDI CABRIOLET (8G7, B4) 2.0 E 01.93 – 07.98851151984AUDI COUPE (81, 85) 1.8 GT 08.86 – 10.87791071781AUDI COUPE (89, 8B) 2.0 05.89 – 12.96851151984Engine Code: AAD
From year: 08/1990
Until year: 07/1991
or
Engine Code: ABK
From year: 09/1991
Until year: 12/1995AUDI COUPE (89, 8B) 2.0 03.90 – 07.90821121984AUDI COUPE (89, 8B) 2.0 05.89 – 03.90831131984FORD ESCORT '86 Courrier (AVF) 1.4 i 02.86 – 07.9054731392Engine Code: F6B, F6DFORD ESCORT '91 Courrier (AVL) 1.4 07.90 – 12.9452711392Until year: 02/1991FORD ESCORT Mk III (GAA) 1.6 i (GAA) 07.85 – 12.8566901598FORD ESCORT Mk III (GAA) 1.6 RS Turbo 11.84 – 12.85971321597FORD ESCORT Mk III (GAA) 1.6 XR3i 10.82 – 12.85771051597From year: 08/1985
Catalytic Converter Type: For vehicles with catalystFORD ESCORT Mk III Convertible (ALD) 1.6 i 09.83 – 12.85771051597From year: 08/1985
Catalytic Converter Type: For vehicles with catalystFORD ESCORT Mk IV (GAF, AWF, ABFT) 1.4 01.86 – 07.9054731392From year: 01/1989
Engine Code: F6B, F6D
From year: 01/1987FORD ESCORT Mk IV (GAF, AWF, ABFT) 1.6 i 01.86 – 05.9066901598Catalytic Converter Type: For vehicles with catalystFORD ESCORT Mk IV (GAF, AWF, ABFT) 1.6 Turbo RS 01.86 – 07.90971321597FORD ESCORT Mk IV Convertible (ALF) 1.4 02.87 – 07.9054731392Engine Code: F6B, F6D
From year: 01/1989FORD ESCORT Mk IV Convertible (ALF) 1.6 i 01.86 – 07.9066901598Catalytic Converter Type: For vehicles with catalystFORD ESCORT Mk IV Turnier (AWF, AVF) 1.4 01.86 – 07.9054731392From year: 01/1989
Engine Code: F6B, F6D
From year: 01/1987FORD ESCORT Mk IV Turnier (AWF, AVF) 1.6 i 01.86 – 07.9066901598From year: 01/1989
Catalytic Converter Type: For vehicles with catalystFORD ESCORT Mk V (GAL) 1.4 07.90 – 09.9252711392Until year: 02/1991FORD ESCORT Mk V (GAL) 1.6 07.90 – 12.92771051598Until year: 02/1991FORD ESCORT Mk V Convertible (ALL) 1.4 07.90 – 12.9252711392Until year: 02/1991FORD ESCORT Mk V Convertible (ALL) 1.6 07.90 – 12.92771051598Until year: 02/1991FORD ESCORT Mk V Turnier (GAL, AVL) 1.4 07.90 – 09.9252711392From year: 08/1990
Until year: 02/1991FORD ESCORT Mk V Turnier (GAL, AVL) 1.6 07.90 – 09.92771051598Until year: 02/1991FORD FIESTA Mk II (FBD) 1.3 (FBD) 09.83 – 01.8751691297Until year: 12/1985FORD FIESTA Mk II (FBD) 1.4 (FBD) 10.86 – 02.8952711393FORD FIESTA Mk II (FBD) 1.4 (FBD) 10.86 – 02.8952711392FORD FIESTA Mk II (FBD) 1.4 (FBD) 02.87 – 02.8954731392FORD FIESTA Mk II (FBD) 1.6 XR2 (FBD) 03.84 – 02.8970951597From year: 01/1986FORD FIESTA Mk II (FBD) 1.6 XR2 (FBD) 04.84 – 02.8971971597From year: 01/1986FORD FIESTA Mk III (GFJ) 1.4 03.89 – 12.9554731392For steering manufacturer: BoschFORD FIESTA Mk III (GFJ) 1.4 03.89 – 12.9552711392For steering manufacturer: BoschFORD FIESTA Mk III (GFJ) 1.6 Turbo (FBJT) 03.90 – 10.92961311598Until year: 02/1991FORD GRANADA Mk III (GAE, GGE) 1.8 04.85 – 02.9266901796FORD GRANADA Mk III (GAE, GGE) 2.0 04.85 – 08.89771051993Until year: 04/1989
Engine Code: NELFORD GRANADA Mk III (GAE, GGE) 2.0 i 10.85 – 12.90741001993From year: 02/1987FORD GRANADA Mk III (GAE, GGE) 2.0 i 04.85 – 02.92851151993From year: 02/1987FORD ORION (AFD) 1.6 i 07.83 – 03.86771051597From year: 08/1985
From year: 02/1985
Until year: 12/1985
Catalytic Converter Type: For vehicles with catalystFORD ORION Mk II (AFF) 1.4 03.86 – 07.9052721392Engine Code: F6B
From year: 10/1987FORD ORION Mk II (AFF) 1.4 Cat 02.87 – 07.9054731392From year: 10/1987FORD ORION Mk II (AFF) 1.6 i Cat 03.86 – 07.9066901598Catalytic Converter Type: For vehicles with catalystFORD ORION Mk III (GAL) 1.4 07.90 – 12.9352711392Until year: 02/1991
Until year: 02/1991FORD SIERRA (GBG, GB4) 1.8 10.87 – 09.8959801796Until year: 05/1988
Until year: 05/1988FORD SIERRA (GBG, GB4) 1.8 01.87 – 05.8866901796Engine Code: TL18 OHCFORD SIERRA (GBG, GB4) 2.0 01.87 – 02.93771051993Engine Code: NESFORD SIERRA (GBG, GB4) 2.0 i 01.87 – 02.93851151993FORD SIERRA (GBG, GB4) 2.0 i 01.87 – 12.89741001993FORD SIERRA (GBG, GB4) 2.0 i Cat 01.87 – 02.93741001993FORD SIERRA Break (BNC) 1.8 10.84 – 12.8666901796Ignition Coil: Coupling Type DINFORD SIERRA Break (BNC) 2.0 10.85 – 12.86741001993Ignition Coil: Coupling Type DINFORD SIERRA Break (BNC) 2.0 08.82 – 12.86771051993From year: 10/1984
Ignition Coil: Coupling Type DINFORD SIERRA Break (BNC) 2.0 03.85 – 12.86851151993From year: 10/1985
Ignition Coil: Coupling Type DINFORD SIERRA Hatchback (GBC) 1.8 10.84 – 12.8666901796Ignition Coil: Coupling Type DINFORD SIERRA Hatchback (GBC) 2.0 10.85 – 12.86741001993Ignition Coil: Coupling Type DINFORD SIERRA Hatchback (GBC) 2.0 08.82 – 12.86771051993From year: 10/1984
From year: 10/1985
Ignition Coil: Coupling Type DINFORD SIERRA Hatchback (GBC) 2.0 i 03.85 – 12.86851151993From year: 10/1985
Ignition Coil: Coupling Type DINFORD SIERRA Hatchback (GBC, GBG) 1.8 10.87 – 05.8859801796FORD SIERRA Hatchback (GBC, GBG) 1.8 01.87 – 05.8866901796Engine Code: TL18 OHC
From year: 10/1987FORD SIERRA Hatchback (GBC, GBG) 2.0 01.87 – 02.93771051993Engine Code: NESFORD SIERRA Hatchback (GBC, GBG) 2.0 i 01.87 – 02.93851151993FORD SIERRA Hatchback (GBC, GBG) 2.0 i 01.87 – 02.93741001993FORD SIERRA Hatchback (GBC, GBG) 2.0 i Cat 01.87 – 02.93741001993FORD SIERRA Turnier (BNG) 1.8 10.87 – 05.8859801796FORD SIERRA Turnier (BNG) 1.8 01.87 – 05.8866901796Engine Code: TL18 OHCFORD SIERRA Turnier (BNG) 2.0 01.87 – 02.93771051993Engine Code: NES
Engine Code: NESFORD SIERRA Turnier (BNG) 2.0 i 01.87 – 02.93851151993FORD SIERRA Turnier (BNG) 2.0 i 01.87 – 02.93741001993FORD SIERRA Turnier (BNG) 2.0 i Cat 01.87 – 02.93741001993FORD TRANSIT Bus (E_ _) 2.0 09.91 – 09.9466901993FORD TRANSIT Bus (E_ _) 2.0 i (EBL, EDL, EGL, ESS, EUS) 09.91 – 07.9472981994FORD TRANSIT Bus (T_ _) 2.0 Cat (TBS, TCL, TCS) 12.85 – 09.9257781993From year: 10/1988
From year: 10/1988
Until year: 09/1991
Until year: 07/1991FORD TRANSIT Platform/Chassis (E_ _) 2.0 (EME/L/S, ENE/L/S) 09.91 – 08.9472981994FORD TRANSIT Platform/Chassis (T_ _) 2.0 Cat (TUL) 11.85 – 09.9257781993From year: 10/1988
Until year: 07/1991FORD TRANSIT Van (E_ _) 2.0 09.91 – 06.9466901993FORD TRANSIT Van (E_ _) 2.0 i (EAL, EAS) 09.91 – 06.9472981994OPEL ASTRA F (T92) 1.4 i (F19, M19) 09.91 – 09.9844601389Engine Code: C 14 NZ
From year: 09/1994
Until year: 02/1998OPEL ASTRA F Estate (T92) 1.4 i (F08, C05) 09.91 – 01.9844601389From year: 09/1994OPEL ASTRA F Estate (T92) 2.0 i 16V (F08, C05) 03.93 – 01.981101501998For steering manufacturer: BoschOPEL ASTRA F Hatchback (T92) 1.4 i (F08, M08, F68, M68) 03.92 – 01.9844601389From year: 09/1994OPEL ASTRA F Hatchback (T92) 2.0 GSI 16V (F08, M08, F68, M68) 09.91 – 01.981101501998For steering manufacturer: BoschOPEL CALIBRA A (C89) 2.0 i 16V (M07) 06.90 – 02.941101501998Until Ch.No.: N9299999
Until Ch.No.: N1299999OPEL CALIBRA A (C89) 2.0 i 16V 4×4 (M07) 06.90 – 02.941101501998Until Ch.No.: N9299999
Until Ch.No.: N1299999OPEL CALIBRA A (C89) 2.0 i Turbo 4×4 (M07) 03.92 – 07.971502041998Until year: 03/1997OPEL COMBO (71_) 1.2 07.94 – 10.0133451196Engine Code: C 12 NZ
From year: 09/1994OPEL COMBO (71_) 1.2 07.94 – 10.0133451195Engine Code: C 12 NZ
From year: 09/1994OPEL COMBO (71_) 1.4 07.94 – 10.0144601389Engine Code: C 14 NZ
From year: 09/1994OPEL CORSA A Hatchback (S83) 1.2 i (F08, M08, F68, M68) 09.89 – 03.9333451196From year: 09/1990
From year: 09/1990OPEL CORSA A Hatchback (S83) 1.4 i (F08, M08, F68, M68) 01.90 – 03.9344601389OPEL CORSA B (S93) 1.2 i (F08, F68, M68) 03.93 – 09.0033451195Engine Code: C 12 NZ
Until year: 08/2000OPEL CORSA B (S93) 1.2 i (F08, F68, M68) 03.93 – 09.0033451196Engine Code: C 12 NZ
Until year: 08/2000OPEL CORSA B (S93) 1.4 i (F08, F68, M68) 03.93 – 09.0044601389Engine Code: C 14 NZ
Until year: 08/2000OPEL FRONTERA A (U92) 2.4 i (53MWL4) 03.92 – 10.98921252410Until year: 02/1995
Until year: 08/1995OPEL KADETT E (T85) 1.4 i (C19, D19) 01.90 – 08.9144601389OPEL KADETT E (T85) 1.6 S (C19, D19) 09.86 – 08.9160821598For steering manufacturer: Bosch
From Ch.No.: L2500001
From Ch.No.: L1000124OPEL KADETT E Box (T85) 1.4 i (C70, D70) 01.90 – 08.9144601389OPEL KADETT E Combo (T85) 1.6 (C25, D25) 09.86 – 12.9160821598From year: 09/1989
Until year: 08/1991
For steering manufacturer: Bosch
From Ch.No.: L2500001
From Ch.No.: L1000124OPEL KADETT E Convertible (T85) 1.4 i 01.90 – 08.9144601389OPEL KADETT E Convertible (T85) 1.6 i 07.89 – 02.9360821598From year: 09/1989
Until year: 08/1991
For steering manufacturer: Bosch
From Ch.No.: L2500001
From Ch.No.: L1000124OPEL KADETT E Convertible (T85) 2.0 09.90 – 05.921101501998Until year: 08/1991OPEL KADETT E Convertible (T85) 2.0 GSi 09.90 – 05.921151561998Until year: 08/1991OPEL KADETT E Estate (T85) 1.4 i (C15, C35, D15, D35) 01.90 – 08.9144601389OPEL KADETT E Estate (T85) 1.6 (C15, C35, D15, D35) 09.86 – 08.9160821598For steering manufacturer: Bosch
From Ch.No.: L2500001
From Ch.No.: L1000124OPEL KADETT E Hatchback (T85) 1.4 i (C08, C48, D08, D48) 01.90 – 08.9144601389OPEL KADETT E Hatchback (T85) 1.6 S (C08, C48, D08, D48) 09.86 – 08.9160821598For steering manufacturer: Bosch
From Ch.No.: L2500001
From Ch.No.: L1000124OPEL KADETT E Hatchback (T85) 2.0 GSI 16V (C08, C48, D08, D48) 03.88 – 08.911101501998OPEL KADETT E Hatchback (T85) 2.0 GSI 16V (C08, C48, D08, D48) 12.87 – 08.911151561998OPEL KADETT E Hatchback (T85) 2.0 GSI 16V Cat (C08, C48, D08, D48) 03.88 – 08.911101501998OPEL MONZA A (22_) 2.2 E 11.84 – 08.86851152197OPEL OMEGA A (V87) 2.4 i (F19, M19, N19) 09.88 – 03.94921252410OPEL OMEGA A Estate (V87) 2.4 i (F35, M35) 09.88 – 03.94921252410OPEL REKORD E (17_-19_, 11_, 14_, 16_) 2.2 E 11.84 – 08.86851152197OPEL REKORD E Estate (61_, 66_, 67_) 2.2 E 11.84 – 08.86851152197OPEL SENATOR A (29_) 2.2 E 11.84 – 08.87851152197OPEL VECTRA A (J89) 1.6 (F19, M19) 09.88 – 05.9360821598For steering manufacturer: Bosch
For steering manufacturer: Lucas
Until Ch.No.: KV999999
Until Ch.No.: K1999999
Until Ch.No.: KV299999OPEL VECTRA A (J89) 2.0 i Turbo 4×4 (F19, M19) 06.94 – 11.951502041998Until year: 08/1995
Until year: 08/1995
From Eng. No.: 14028515
To Eng. No.: 14180385OPEL VECTRA A (J89) 2000 16V 4×4 (F19, M19) 01.89 – 10.901101501998From year: 09/1989OPEL VECTRA A (J89) 2000/GT 16V (F19, M19) 01.89 – 06.941101501998From year: 09/1989OPEL VECTRA A (J89) 2000/GT 16V Cat (F19, M19) 02.90 – 11.951101501998Until year: 08/1995OPEL VECTRA A (J89) 2000/GT 16V Cat 4×4 (F19, M19) 02.90 – 11.951101501998Until year: 08/1992
Until year: 08/1992OPEL VECTRA A Hatchback (J89) 1.6 S 09.88 – 05.9360821598For steering manufacturer: Bosch
For steering manufacturer: Lucas
Until Ch.No.: KV999999
Until Ch.No.: K1999999
Until Ch.No.: KV299999OPEL VECTRA A Hatchback (J89) 2.0 i 16V (F68, M68) 02.89 – 10.901101501998From year: 09/1989OPEL VECTRA A Hatchback (J89) 2.0 i 16V Cat (F68, M68) 02.90 – 11.951101501998Until year: 08/1995SEAT ALHAMBRA (7V8, 7V9) 2.0 i 04.96 – 03.10851151984Engine Code: ADY
Until year: 02/2000SEAT AROSA (6H) 1.0 05.97 – 06.043750999Engine Code: AHT
Engine Code: AER, ALL
Engine Code: AER
Until year: 09/1999SEAT AROSA (6H) 1.4 05.97 – 06.0444601390Engine Code: AEX, AKV, APQ
Until year: 09/1999SEAT AROSA (6H) 1.4 05.97 – 06.0444601391Engine Code: AEX, AKV, APQ
Until year: 09/1999SEAT CORDOBA (6K1, 6K2) 1.0 i 09.96 – 10.023750999SEAT CORDOBA (6K1, 6K2) 1.4 i 06.94 – 10.0244601390Engine Code: ABD, AEX, AKV
Engine Code: ABD
Until year: 12/1995
To Eng. No.: 414 198
or
Engine Code: AEX, AKV, APQ, ANX
From year: 01/1996
Until year: 06/1999SEAT CORDOBA (6K1, 6K2) 1.4 i 06.94 – 10.0244601391Engine Code: ABD, AEX, AKV
Engine Code: ABD
Until year: 12/1995
To Eng. No.: 414 198
or
Engine Code: AEX, AKV, APQ, ANX
From year: 01/1996
Until year: 06/1999SEAT CORDOBA (6K1, 6K2) 1.4 i 16V 09.96 – 10.02741011390SEAT CORDOBA (6K1, 6K2) 1.6 i 02.93 – 10.0255751598Engine Code: ABU
From year: 09/1993
Until year: 07/1994
or
Engine Code: AEE, ALM
From year: 03/1997SEAT CORDOBA (6K1, 6K2) 1.6 i 07.96 – 10.02741011595SEAT CORDOBA (6K1, 6K2) 1.6 i 05.94 – 06.9955751595SEAT CORDOBA (6K1, 6K2) 1.8 i 02.93 – 09.0266901781From year: 09/1993
From year: 09/1993SEAT CORDOBA (6K1, 6K2) 1.8 i 16V 10.93 – 08.96951291781SEAT CORDOBA (6K1, 6K2) 2.0 i 02.93 – 06.99851151984Engine Code: ATU
From year: 04/1996SEAT CORDOBA (6K1, 6K2) 2.0 i 16V 08.96 – 06.991101501984SEAT CORDOBA Vario (6K5) 1.4 i 09.96 – 12.0244601391From year: 05/1997SEAT CORDOBA Vario (6K5) 1.4 i 09.96 – 12.0244601390From year: 05/1997SEAT CORDOBA Vario (6K5) 1.6 i 09.96 – 12.02741011595From year: 04/1997SEAT CORDOBA Vario (6K5) 1.6 i 09.96 – 12.0255751598Engine Code: AEE
From year: 05/1997
Engine Code: ALMSEAT CORDOBA Vario (6K5) 1.6 i 05.97 – 06.9955751595SEAT IBIZA (021A) 1.2 i 01.89 – 05.9352711193SEAT IBIZA (021A) 1.5 i 10.86 – 05.93741001461SEAT IBIZA (021A) 1.5 i 10.86 – 05.9365891461SEAT IBIZA (021A) 1.5 i Cat 10.86 – 05.9366901461SEAT IBIZA (021A) 1.7 01.91 – 05.93761031675SEAT IBIZA (021A) 1.7 01.91 – 05.9372981675SEAT IBIZA Mk II (6K1) 1.0 03.93 – 09.9633451043SEAT IBIZA Mk II (6K1) 1.0 i 09.96 – 02.023750999Until year: 10/1999SEAT IBIZA Mk II (6K1) 1.3 i 03.93 – 08.9940541272Engine Code: AAV
Until year: 07/1994
Until year: 07/1994SEAT IBIZA Mk II (6K1) 1.4 12.97 – 04.9940541390Until year: 05/1998SEAT IBIZA Mk II (6K1) 1.4 i 09.93 – 02.0244601390Engine Code: ABD
Until year: 12/1995
From Eng. No.: 414 199
or
Engine Code: AEX, AKV, APQ
From year: 12/1995
Until year: 10/1999SEAT IBIZA Mk II (6K1) 1.4 i 09.93 – 02.0244601391Engine Code: ABD
Until year: 12/1995
From Eng. No.: 414 199
or
Engine Code: AEX, AKV, APQ
From year: 12/1995
Until year: 10/1999SEAT IBIZA Mk II (6K1) 1.4 i 16V 06.97 – 02.02741011390Until year: 06/1999SEAT IBIZA Mk II (6K1) 1.6 i 03.93 – 02.0255751598Until year: 07/1994
Engine Code: ABU
Until year: 07/1994
or
Engine Code: AEE, ALM
From year: 03/1997SEAT IBIZA Mk II (6K1) 1.6 i 04.96 – 02.02741011595Until year: 10/1999SEAT IBIZA Mk II (6K1) 1.6 i 09.94 – 06.9955751595SEAT IBIZA Mk II (6K1) 1.8 i 03.93 – 08.9966901781Until year: 07/1994
Engine Code: ABS, ADZSEAT IBIZA Mk II (6K1) 1.8 i 16V 11.93 – 08.96951291781Until year: 06/1996SEAT IBIZA Mk II (6K1) 2.0 i 03.93 – 08.99851151984Until year: 04/1996SEAT IBIZA Mk II (6K1) 2.0 i 16V 08.96 – 08.991101501984SEAT INCA (6K9) 1.4 i 11.95 – 06.0344601390Engine Code: AEX, AKV, APQSEAT INCA (6K9) 1.4 i 11.95 – 06.0344601391Engine Code: AEX, AKV, APQSEAT INCA (6K9) 1.6 i 11.95 – 05.9855751595Until year: 05/1997
Until year: 05/1997SEAT INCA (6K9) 1.6 i 06.97 – 09.0055751598SEAT MALAGA (023A) 1.2 i 12.89 – 12.9352711193SEAT MALAGA (023A) 1.5 i 01.87 – 12.93741001461SEAT MALAGA (023A) 1.5 i Cat 10.86 – 12.9366901461Engine Code: 021 A 2000SEAT TOLEDO (1L) 1.6 i 05.91 – 03.9954731595Engine Code: 1FSEAT TOLEDO (1L) 1.6 i 05.91 – 12.9352711595From year: 10/1991SEAT TOLEDO (1L) 1.6 i 01.93 – 03.9955751595SEAT TOLEDO (1L) 1.6 i 11.96 – 03.99741011595SEAT TOLEDO (1L) 1.8 16V 05.91 – 03.99981331781Until year: 11/1992
Until year: 11/1992SEAT TOLEDO (1L) 1.8 16V 05.91 – 03.99921251781Until year: 03/1994
Until year: 03/1994SEAT TOLEDO (1L) 1.8 i 05.91 – 12.9665881781Until year: 11/1993SEAT TOLEDO (1L) 1.8 i 11.93 – 12.9666901781Until year: 07/1994SEAT TOLEDO (1L) 2.0 i 05.91 – 03.99851151984Engine Code: ATU
Until year: 06/1996
From year: 03/1996
or
Engine Code: 2E
Until year: 06/1996SEAT TOLEDO (1L) 2.0 i 16V 11.93 – 03.991101501984From year: 03/1994
Until year: 10/1998SKODA FELICIA (6U1) 1.6 LX 08.95 – 03.9855751598For steering manufacturer: BoschSKODA FELICIA Estate (6U5) 1.6 GLX 08.95 – 03.9855751598For steering manufacturer: BoschSKODA FELICIA Pickup (6UF, 6U7) 1.6 06.97 – 04.0255751598Until year: 03/2001
For steering manufacturer: BoschSKODA FELICIA Mk II (6U1) 1.6 01.98 – 06.0155751598For steering manufacturer: BoschSKODA FELICIA Mk II Estate (6U5) 1.6 01.98 – 06.0155751598For steering manufacturer: BoschSKODA OCTAVIA I (1U2) 1.6 09.96 – 09.0455751598For steering manufacturer: BoschSKODA OCTAVIA I Combi (1U5) 1.6 07.98 – 09.0455751598For steering manufacturer: BoschVOLVO 240 (P242, P244) 2.3 08.86 – 07.87831132316VOLVO 240 (P242, P244) 2.3 i Cat 08.86 – 07.93851152316VOLVO 240 Break (P245) 2.3 08.86 – 07.87831132316VOLVO 240 Break (P245) 2.3 Cat 08.91 – 07.921001362316VOLVO 240 Break (P245) 2.3 i Cat 08.86 – 07.93851152316VOLVO 340-360 (343, 345) 2.0 08.88 – 07.89801091986From Ch.No.: 241000VOLVO 340-360 (343, 345) 2.0 08.86 – 07.88821121986From Ch.No.: 241000VOLVO 340-360 (343, 345) 2.0 08.84 – 07.87771051986From year: 08/1986
From Ch.No.: 241000
From Ch.No.: 241000VOLVO 340-360 (343, 345) 2.0 08.84 – 07.86871181986From Ch.No.: 241000VOLVO 340-360 (343, 345) 2.0 08.87 – 07.88811101986From Ch.No.: 241000VOLVO 340-360 Saloon (344) 2.0 08.84 – 07.90751021986From year: 08/1986
From Ch.No.: 241000
From Ch.No.: 241000VOLVO 340-360 Saloon (344) 2.0 08.84 – 07.86851151986From Ch.No.: 241000VOLVO 340-360 Saloon (344) 2.0 08.84 – 07.87771051986From Ch.No.: 241000
From Ch.No.: 241000–>VOLVO 340-360 Saloon (344) 2.0 08.84 – 07.86871181986From Ch.No.: 241000–>
From Ch.No.: 241000VOLVO 340-360 Saloon (344) 2.0 08.86 – 07.88821121986From Ch.No.: 241000VOLVO 340-360 Saloon (344) 2.0 08.88 – 07.89801091986From Ch.No.: 241000VOLVO 340-360 Saloon (344) 2.0 08.87 – 07.88811101986From Ch.No.: 241000VW CADDY II Estate (9K9B) 1.4 11.95 – 01.0444601390Engine Code: AEX, AKV, APQ
Until year: 06/2003VW CADDY II Estate (9K9B) 1.6 11.95 – 05.9755751595For steering manufacturer: BoschVW CADDY II Estate (9K9B) 1.6 06.97 – 09.0055751598VW CADDY Mk II (9K9A) 60 1.4 11.95 – 01.0444601390Engine Code: AEX,APQ
Until year: 06/2003VW CADDY Mk II (9K9A) 75 1.6 11.95 – 09.0055751598From year: 06/1996
From year: 06/1997VW CADDY Mk II (9K9A) 75 1.6 11.95 – 05.9755751595For steering manufacturer: BoschVW CADDY Mk II (9U7) 1.6 06.96 – 12.0055751598VW CORRADO (53I) 1.8 16V 04.89 – 07.921001361781VW CORRADO (53I) 1.8 G60 09.88 – 09.931181601781VW CORRADO (53I) 2.0 i 04.93 – 12.95851151984Engine Code: 2E
Until year: 09/1994VW CORRADO (53I) 2.0 i 16V 08.91 – 12.951001361984From Ch.No.: 50-N-000 001
From Ch.No.: 50-N-000 001VW DERBY (86C, 80) 1.3 09.82 – 12.8455751272From year: 08/1983VW GOLF Cabriolet (155) 1.8 08.89 – 03.9372981781VW GOLF Mk II (19E, 1G1) 1.8 GTI 08.83 – 10.91821121781Engine Code: PBVW GOLF Mk II (19E, 1G1) 1.8 GTI 08.85 – 10.87791071781VW GOLF Mk II (19E, 1G1) 1.8 GTI 16V 02.86 – 10.91951291781VW GOLF Mk II (19E, 1G1) 1.8 GTI 16V 02.86 – 06.901021391781VW GOLF Mk II (19E, 1G1) 1.8 GTI Cat 01.87 – 10.91791071781VW GOLF Mk II (19E, 1G1) 1.8 GTI G60 04.90 – 07.911181601781VW GOLF Mk II (19E, 1G1) 1.8 GTI G60 Syncro 08.88 – 12.911181601781VW GOLF Mk II (19E, 1G1) 1.8 Syncro 08.88 – 07.9172981781VW GOLF Mk III (1H1) 1.4 11.91 – 08.9740551390VW GOLF Mk III (1H1) 1.4 10.91 – 08.9744601390VW GOLF Mk III (1H1) 1.6 09.92 – 08.9755751598VW GOLF Mk III (1H1) 1.6 07.95 – 08.97741011595Engine Code: AEK
Engine Code: AEK
Until year: 12/1995
Engine Code: AFT
For steering manufacturer: Bosch
or
Engine Code: AFT, AKS
From year: 12/1995VW GOLF Mk III (1H1) 1.8 11.91 – 08.9755751781For steering manufacturer: BoschVW GOLF Mk III (1H1) 1.8 11.91 – 08.9766901781Engine Code: ABS, ADZ
For steering manufacturer: BoschVW GOLF Mk III (1H1) 1.8 Syncro (1HX1) 01.93 – 08.9766901781For steering manufacturer: BoschVW GOLF Mk III (1H1) 2.0 11.91 – 08.97851151984Engine Code: 2E, ADY, AGG, AKRVW GOLF Mk III (1H1) 2.0 GTI 16V 08.92 – 08.971101501984VW GOLF Mk III (1H1) 2.0 Syncro (1HX1) 08.95 – 08.97851151984For steering manufacturer: BoschVW GOLF Mk III Cabriolet (1E7) 1.6 10.94 – 05.98741011595Engine Code: AFT
For steering manufacturer: Bosch
or
From year: 04/1997
Engine Code: AKSVW GOLF Mk III Cabriolet (1E7) 1.6 06.98 – 06.02741001595Until year: 10/2000VW GOLF Mk III Cabriolet (1E7) 1.8 07.93 – 05.9855751781Engine Code: AAM
For steering manufacturer: BoschVW GOLF Mk III Cabriolet (1E7) 1.8 07.93 – 05.9866901781Engine Code: ABS, ADZ
Until year: 04/1997
or
Engine Code: ANP
From year: 01/1998
Until year: 03/1998VW GOLF Mk III Cabriolet (1E7) 1.8 06.98 – 06.0255751781Until year: 10/2000VW GOLF Mk III Cabriolet (1E7) 1.8 06.98 – 06.0266901781Until year: 10/2000VW GOLF Mk III Cabriolet (1E7) 2.0 07.93 – 05.98851151984Engine Code: ADY
Engine Code: 2E, ADY
From year: 10/1994
Until year: 07/1995
For steering manufacturer: Bosch
or
Engine Code: ADY
From year: 07/1995
Until year: 07/1995
For steering manufacturer: Bosch
or
Engine Code: AGG, AKR
From year: 07/1995
Until year: 04/1998
For steering manufacturer: Bosch
or
Engine Code: 2E
Until year: 12/1994VW GOLF Mk III Cabriolet (1E7) 2.0 06.98 – 06.02851151984Engine Code: AGG, AKR
Until year: 12/2001VW GOLF Mk III Estate (1H5) 1.4 07.93 – 04.9940551390Until year: 07/1995VW GOLF Mk III Estate (1H5) 1.4 07.93 – 04.9944601390VW GOLF Mk III Estate (1H5) 1.6 07.94 – 04.99741011595From year: 10/1994
Until year: 02/1999
Engine Code: AEK
Engine Code: AFTVW GOLF Mk III Estate (1H5) 1.8 07.93 – 04.9955751781VW GOLF Mk III Estate (1H5) 1.8 07.93 – 04.9966901781VW GOLF Mk III Estate (1H5) 1.8 Syncro 10.94 – 04.9966901781For steering manufacturer: BoschVW GOLF Mk III Estate (1H5) 2.0 07.93 – 04.99851151984Engine Code: AGG, AKR
Engine Code: 2E, ADY
From year: 07/1995
Until year: 02/1999
For steering manufacturer: Bosch
or
Engine Code: 2E, ADY
Until year: 05/1996VW GOLF Mk III Estate (1H5) 2.0 Syncro 08.95 – 04.99851151984VW JETTA Mk II (19E, 1G2, 165) 1.8 01.84 – 10.91821121781Engine Code: PB
Engine Code: PB
From year: 02/1987VW JETTA Mk II (19E, 1G2, 165) 1.8 08.85 – 10.87791071781VW JETTA Mk II (19E, 1G2, 165) 1.8 16V 08.86 – 10.91951291781VW JETTA Mk II (19E, 1G2, 165) 1.8 16V 06.87 – 12.891021401781VW JETTA Mk II (19E, 1G2, 165) 1.8 Cat 01.87 – 10.91791071781From year: 02/1987
Until year: 02/1991VW JETTA Mk II (19E, 1G2, 165) 1.8 Syncro 08.88 – 07.9172981781Until Ch.No.: 1G-L-320000
Until year: 11/1989VW LUPO (6X1, 6E1) 1.0 09.98 – 07.053750999Engine Code: AER, ALL
Engine Code: AHT
Engine Code: AER
From year
Until year: 05/2000VW PASSAT (3A2, 35I) 1.6 10.94 – 08.96741011595For steering manufacturer: BoschVW PASSAT (3A2, 35I) 1.8 04.88 – 07.93791071781Until year: 07/1990VW PASSAT (3A2, 35I) 1.8 04.88 – 07.92821121781Until year: 07/1990VW PASSAT (3A2, 35I) 1.8 08.90 – 08.9655751781For steering manufacturer: BoschVW PASSAT (3A2, 35I) 1.8 02.88 – 08.9666901781Engine Code: ABS, ADZ
Engine Code: ABS
or
From year
From year: 08/1990
For steering manufacturer: Bosch
Until year: 07/1991
or
Engine Code: RP
Engine Code: RP
From year: 08/1990
Until year: 07/1991VW PASSAT (3A2, 35I) 1.8 16V 04.88 – 12.891001361781VW PASSAT (3A2, 35I) 1.8 G60 Syncro 08.88 – 08.961181601781Until year: 07/1993VW PASSAT (3A2, 35I) 2.0 02.90 – 08.96851151984Engine Code: 2E
Engine Code: 2E
Engine Code: ADY
From year: 03/1990
Engine Code: ATU
Until year: 09/1994
or
Engine Code: ADY
From year: 10/1994
Until year: 07/1995
or
Engine Code: ADY
Engine Code: ATU
From year: 07/1995VW PASSAT (3A2, 35I) 2.0 03.95 – 08.96791071984VW PASSAT (3A2, 35I) 2.0 16V 08.88 – 09.931001361984VW PASSAT (3A2, 35I) 2.0 16V 01.94 – 08.961101501984VW PASSAT (3A2, 35I) 2.0 Syncro 10.90 – 08.96851151984Engine Code: 2E, ADY, AGG
Engine Code: 2E
Until year: 02/1991
or
Engine Code: 2E
From year: 02/1991
Until year: 09/1994VW PASSAT (3B2) 1.6 10.96 – 11.00741011595Engine Code: ADP
Engine Code: ADP
For steering manufacturer: BoschVW PASSAT Estate (3A5, 35I) 1.6 07.94 – 12.95741011595For steering manufacturer: BoschVW PASSAT Estate (3A5, 35I) 1.8 04.88 – 07.90791071781VW PASSAT Estate (3A5, 35I) 1.8 04.88 – 07.92821121781VW PASSAT Estate (3A5, 35I) 1.8 08.90 – 05.9755751781For steering manufacturer: BoschVW PASSAT Estate (3A5, 35I) 1.8 02.88 – 05.9766901781Engine Code: ABS, ADZ
Engine Code: ABS
From year
or
Until year: 03/1997
From year: 08/1990
Until year: 07/1991
For steering manufacturer: Bosch
Engine Code: RP
or
Engine Code: RP
From year: 08/1990
Until year: 07/1991VW PASSAT Estate (3A5, 35I) 1.8 16V 04.88 – 12.891001361781VW PASSAT Estate (3A5, 35I) 1.8 G60 Syncro 08.88 – 05.971181601781VW PASSAT Estate (3A5, 35I) 2.0 02.90 – 05.97851151984Engine Code: 2E
From year: 03/1990
Engine Code: 2E, ADY, AGG
From year: 03/1990
Until year: 02/1991
or
Engine Code: 2E
From year: 02/1991
Until year: 09/1994
or
Engine Code: ADY
From year: 10/1994
Until year: 07/1995
or
Engine Code: ADY
Engine Code: ATU
From year: 07/1995
Until year: 03/1997VW PASSAT Estate (3A5, 35I) 2.0 03.95 – 08.96791071984VW PASSAT Estate (3A5, 35I) 2.0 16V 08.88 – 09.931001361984Until year: 03/1990VW PASSAT Estate (3A5, 35I) 2.0 16V 01.94 – 05.971101501984VW PASSAT Estate (3A5, 35I) 2.0 Syncro 10.90 – 05.97851151984Engine Code: 2E
Engine Code: 2E, ADY, AGG
Until year: 09/1994
or
Engine Code: ADY
From year: 10/1994
Until year: 07/1995
or
Engine Code: ADY, AGG
From year: 07/1995
Until year: 03/1997VW PASSAT Estate (3B5) 1.6 06.97 – 11.00741011595Engine Code: ADP
For steering manufacturer: BoschVW POLO (6N1) 100 1.4 16V 04.96 – 10.99741001390VW POLO (6N1) 45 1.0 10.94 – 09.9633451043VW POLO (6N1) 50 1.0 09.96 – 10.993750999Engine Code: AHT
Engine Code: AERVW POLO (6N1) 55 1.3 10.94 – 07.9540551296VW POLO (6N1) 55 1.4 08.95 – 10.9940551390VW POLO (6N1) 60 1.4 07.95 – 10.9944601390VW POLO (6N1) 75 1.6 10.94 – 10.9955751598Engine Code: AEA, AEE, AHSVW POLO (86C, 80) 1.0 Cat 08.89 – 09.9433451043Engine Code: AAU
From year: 10/1990VW POLO (86C, 80) 1.3 09.82 – 09.8955751272VW POLO (86C, 80) 1.3 Cat 07.87 – 09.9440551272Engine Code: AAV
From year: 01/1991
From year: 01/1991
Engine Code: AAVVW POLO (86C, 80) 1.3 Cat 10.89 – 03.9155751272Until year: 08/1990VW POLO Box (6NF) 1.0 10.94 – 12.9933451043VW POLO Box (6NF) 1.4 05.98 – 12.9944601390Engine Code: AEXVW POLO Box (86CF) 1.0 08.92 – 07.9433451043From Ch.No.: 80 M 100 001
From Ch.No.: 80 M 100 001VW POLO Box (86CF) 1.3 08.92 – 07.9440541272From Ch.No.: 80 M 100 001VW POLO CLASSIC (6V2) 100 1.6 12.95 – 09.01741001595Engine Code: AFT
Until year: 08/1999VW POLO CLASSIC (6V2) 54 1.4 01.98 – 08.9940541390VW POLO CLASSIC (6V2) 60 1.4 12.95 – 09.0144601390Engine Code: AEX, AKV, APQ
From year: 05/1996
Until year: 08/1999VW POLO CLASSIC (6V2) 75 1.6 11.95 – 09.0155751598From year: 04/1997VW POLO CLASSIC (6V2) 75 1.6 11.95 – 09.9755751595For steering manufacturer: BoschVW POLO CLASSIC (6V2) 90 1.8 01.97 – 09.0166901781Engine Code: ADD
From year: 01/2001VW POLO CLASSIC (86C, 80) 1.0 01.85 – 09.9433451043From year: 10/1990
Engine Code: AAU
From year: 10/1990
Engine Code: AAUVW POLO Coupe (86C, 80) 1.0 Cat 08.89 – 09.9433451043Engine Code: AAU
From year: 08/1990
From year: 10/1990
Engine Code: AAK
Until Ch.No.: 80M100000
or
From year: 08/1990
Engine Code: AAU
From Ch.No.: 80M100001VW POLO Coupe (86C, 80) 1.3 09.82 – 09.8955751272VW POLO Coupe (86C, 80) 1.3 03.91 – 09.9457781272From Ch.No.: 80 M 100 001VW POLO Coupe (86C, 80) 1.3 Cat 07.87 – 08.9440551272From year: 01/1991
Engine Code: AAV
Engine Code: AAV
From year: 01/1991VW POLO Coupe (86C, 80) 1.3 Cat 10.89 – 09.9455751272Until year: 08/1990VW POLO Coupe (86C, 80) 1.3 G40 01.87 – 08.90851151272VW POLO Coupe (86C, 80) 1.3 G40 08.90 – 09.94831131272VW POLO Estate (6V5) 1.4 05.97 – 09.0144601390Engine Code: AEX, AKV, APQ, ANX
Until year: 08/1999VW POLO Estate (6V5) 1.6 05.97 – 09.0155751598From year: 09/1997VW POLO Estate (6V5) 1.6 05.97 – 09.01741011595Engine Code: AFT
Until year: 08/1999VW SCIROCCO (53B) 1.8 16V 10.85 – 07.891021391781VW SCIROCCO (53B) 1.8 16V 03.86 – 07.92951291781VW SHARAN (7M8, 7M9, 7M6) 2.0 09.95 – 03.10851151984Engine Code: ADY
Until year: 02/2000VW TRANSPORTER / CARAVELLE Mk III Bus 2.1 08.85 – 07.9270952110VW TRANSPORTER / CARAVELLE Mk III Bus 2.1 10.86 – 07.9264872109VW TRANSPORTER / CARAVELLE Mk III Bus 2.1 Cat 06.89 – 07.9270952110VW TRANSPORTER / CARAVELLE Mk III Bus 2.1 i 07.89 – 07.9268922110VW TRANSPORTER / CARAVELLE Mk III Bus 2.1 Syncro 08.85 – 07.9270952110Until year: 02/1990VW TRANSPORTER / CARAVELLE Mk III Bus 2.1 Syncro 10.86 – 07.9264872109VW TRANSPORTER / CARAVELLE Mk IV Bus (70B, 70C, 7DB, 7DK, 70J, 2.0 09.90 – 04.0362841968VW TRANSPORTER Mk III Box 2.1 08.85 – 07.9270952110VW TRANSPORTER Mk III Box 2.1 i 07.89 – 07.9268922110VW TRANSPORTER Mk III Box 2.1 Syncro 08.85 – 07.9270952110Until year: 02/1990VW TRANSPORTER Mk III Platform/Chassis 2.1 08.85 – 07.9270952110VW TRANSPORTER Mk III Platform/Chassis 2.1 i 07.89 – 07.9268922110VW TRANSPORTER Mk III Platform/Chassis 2.1 Syncro 08.85 – 07.9270952110Until year: 02/1990VW TRANSPORTER Mk IV Box (70A, 70H, 7DA, 7DH) 2.0 07.90 – 04.0362841968VW TRANSPORTER Mk IV Platform/Chassis (70E, 70L, 70M, 7DE, 7DL,2.0 07.90 – 04.0362841968Until year: 12/1995VW VENTO (1H2) 1.4 11.91 – 09.9840551390Until year: 12/1997VW VENTO (1H2) 1.4 11.91 – 09.9844601390Until year: 12/1997VW VENTO (1H2) 1.6 09.92 – 09.9855751598Engine Code: ABU
Until year: 07/1994
or
Engine Code: AEA, AEE
From year: 10/1994
Until year: 12/1997VW VENTO (1H2) 1.6 10.94 – 09.98741011595Engine Code: AEK
Until year: 12/1995
For steering manufacturer: Bosch
or
Engine Code: AFT, AKS
From year: 12/1995
Until year: 12/1997VW VENTO (1H2) 1.8 11.91 – 09.9855751781Until year: 12/1997
For steering manufacturer: BoschVW VENTO (1H2) 1.8 11.91 – 09.9866901781Until year: 12/1997
For steering manufacturer: BoschVW VENTO (1H2) 2.0 11.91 – 09.98851151984Engine Code: 2E, ADY
Engine Code: AGG, AKR
From year: 07/1995
Until year: 12/1997
For steering manufacturer: Bosch
or
Engine Code: 2E, ADY
Until year: 05/1996Corresponding OE Number(s)BOSCH Ignition distributor rotor arm
ALFA ROMEO: 195050501102/01
ALFA ROMEO: 60743670
ALFA ROMEO: 195050501102
ALFA ROMEO: 195050501101
CHEVROLET: 90008612
FIAT: 60743768
FIAT: 60743670
FORD: 91OX12200AA
FORD: 3059052251
FORD: 84SF12200BA
HOLDEN: 90008612
HOLDEN: VS19338
HOLDEN: VS21273
MERCEDES-BENZ: A0001584231
MERCEDES-BENZ: 1584231
MERCEDES-BENZ: A0001583931
MERCEDES-BENZ: 1583931
MERCEDES-BENZ: 0001583931
MERCEDES-BENZ: 0001584231
OPEL: 90008612
OPEL: 1212222
SAAB: 7564420
VAUXHALL: 90008612
VW: 0003981392
VW: 108954
VW: 052905225CMore items & accessories5 LITRE CASTROL EDGE TITANIUM FST 0W-40 A3/B4 ENGINE-OIL MB 229.5
###QUALITY BRANDS PROFESSIONAL CAR PART SUPPLIER###57,99 GBP5 LITRE CASTROL MAGNATEC 5W-40 C3 ENGINE-OIL BMW LONGLIFE-04
###QUALITY BRANDS PROFESSIONAL CAR PART SUPPLIER###39,88 GBP5 LITRE CASTROL EDGE TITANIUM FST 0W-30 ENGINE-OIL BMW LONGLIFE-04
###QUALITY BRANDS PROFESSIONAL CAR PART SUPPLIER###55,69 GBPOSRAM SET OF 2 HALOGEN BULBS H7 NIGHT BREAKER UNLIMITED HEADLIGHT 64210NBU-HCB
### BRAND-NEW MODEL // +110 % MORE LIGHT ###28,88 GBP5 LITRE CASTROL MAGNATEC 10W-40 A3/B4 ENGINE-OIL ACEA A3/B4
###QUALITY BRANDS PROFESSIONAL CAR PART SUPPLIER### 42,99 GBP5 LITRE CASTROL EDGE FST 5W-40 ENGINE-OIL SAE 5W-40
###QUALITY BRANDS PROFESSIONAL CAR PART SUPPLIER###49,99 GBP1 L LITRE CASTROL EDGE TITANIUM FST 5W-30 C3 ENGINE OIL ACEA C3
### QUALITY BRANDS PROFESSIONAL CAR PART SUPPLIER ###22,99 GBP1 L LITRE CASTROL EDGE TITANIUM FST 5W-30 LL ENGINE OIL ACEA C3
### QUALITY BRANDS PROFESSIONAL CAR PART SUPPLIER ###23,99 GBP5 L EDGE TITANIUM FST 5W-30 LL OLIO MOTORE VW 504 00 / 507 00
### QUALITY BRANDS PROFESSIONAL CAR PART SUPPLIER ###51,79 GBP5 L EDGE TITANIUM FST 5W-30 C3 ENGINE OIL ACEA C3
### QUALITY BRANDS PROFESSIONAL CAR PART SUPPLIER ###56,95 GBP5 L LITRE CASTROL MAGNATEC STOP-START 5W-30 A5 ENGINE OIL ACEA A1/B1 A5/B5
##ALSO PROTECTS ENGINES WITHOUT STOP-START FUNCTION##45,28 GBP Return NO RISK! – 180 days return policy* guaranteed Free return – seller bears all return costs *Our return policy terms can be found in our customer information Our service – Your advantage! All items have been quality tested. Almost all of our suppliers have been certified in accordance with DIN EN ISO 9001:2000 Online order tracking available No risk! – 180 days return guaranteed – seller bears all return costs* Our complete range of parts can be found on our ebay shop *Our return policy terms can be found in our customer information International Shipping Costs No shipping to European Islands* *See below the exclusion list Shipment in European countries only by prepayment! Please note that for non-European Union countries: Due to custom duties a variation of the price may be possible. In addition custom clearance may cause a delay in delivery. Austria 6.95 Belgium 6.95 Bulgaria 7.95 Croatia 9.95 Czech Republic 6.95 Denmark 6.95 Estonia 6.95 Finland* 11.95 France* 6.95 Germany 0.00 Great Britain* 0.00 Greece 16.95 Hungary 6.95 Ireland 6.95 Italy* 6.95 Latvia 6.95 Lithuania 6.95 Luxembourg 6.95 Netherlands 6.95 Norway* 16.95 Poland 6.95 Portugal* 8.95 Romania 8.95 Slovakia 6.95 Slovenia 6.95 Spain* 6.95 Sweden 9.95 Switzerland 14.95 Finland We do not deliver to the following postcodes: 22100-22999 (Aland Islands) Seuraavat postinumerot eivt kuulu jakelualueeseen: 22100-22999 (land) France We do not deliver to the following postcodes: 971XX, 97133, 97150, 972XX, 973XX, 974XX, 97500, 976XX, 986XX, 987XX, 98799, 988XX (Guadeloupe, Saint Barthlemy, Saint Martin, Martinique, French Guiana, Runion Island, Saint Pierre and Miquelon, Mayotte, Wallis and Futuna Islands, French Polynesia, Clipperton Island, New Caledonia) Nous ne livrons pas dans les rgions avec les codes postaux suivants: 971XX, 97133, 97150, 972XX, 973XX, 974XX, 97500, 976XX, 986XX, 987XX, 98799, 988XX (Guadeloupe, Saint-Barthlemy, Saint-Martin, Martinique, Guyane franaise, La Runion, Saint-Pierre-et-Miquelon, Mayotte, Wallis et Futuna, Polynsie franaise, le Clipperton, Nouvelle-Caldonie) Great Britain We do not deliver to the following postcodes: IM (Isle of Man), GG (Guernsey), JE (Jersey) Italy We do not deliver to the following postcodes: 23030, 22060 (Livigno, Champione dItalia), 47890-47899 (San Marino) Le seguenti zone di codice postale sono escluse dalla consegna: 23030, 22060 (Livigno, Champione dItalia), 47890-47899 (San Marino) Norway We do not deliver to the following postcodes: 9170-9179 (Svalbard group, Spitsbergen), 9180-9999 Vi leverer ikke flgende postnummer: 9170-9179 (Svalbard gruppe, Spitsbergen), 9180-9999 Portugal We do not deliver to the following postcodes: 9370, 9400, 9500-9504, 9545, 9555, 9560, 9580, 9600, 9625, 9630, 9650, 9675, 9680, 9700-9701, 9760, 9800, 9850, 9875, 9880, 9900, 9900-9901, 9940 As seguintes reas de cdigo postal so excludos da entrega: 9370, 9400, 9500-9504, 9545, 9555, 9560, 9580, 9600, 9625, 9630, 9650, 9675, 9680, 9700-9701, 9760, 9800, 9850, 9875, 9880, 9900, 9900-9901, 9940 Spain We do not deliver to the Balearic Islands (Mallorca, Ibiza, Menorca, Formentera, Cabrera) and the Canary Islands (La Palma, La Gomera, El Hierro, Tenerife, Gran Canaria, Fuerteventura, Lanzarote), postcodes: 07001-07999, 35001-35999, 38001-38999, 51001-51999, 52001-52999 Quedan excluidas de la entrega: Islas Baleares (Mallorca, Ibiza, Menorca, Formentera, Cabrera), Islas Canarias (La Palma, La Gomera, El Hierro, Tenerife, Gran Canaria, Fuerteventura, Lanzarote) y sus respectivas zonas postales: 07001-07999, 35001-35999, 38001-38999, 51001-51999, 52001-52999 3559344012 – 3559313012 – 3558880012cc9f8f861 c2bec6ce4 cf2795942 c77f1c08f ce24fee93 cdc2bcb3e cf8741e16 cee38da0c caa5050c9 cb09e710d cf52be0cc c7accd45b c6ab186ee cc1ce7a24 c5eb1421d ce5a744ba caa4699f0 c268d27c8 c00fa9c1f c875ac7f0 c6b3c3036 c62f728fd c25b456d0 cbaaf9558 c736e39f6 c527195ea cc1e3ceba c6c80acf4 c8e15c5fd c0a7df3c7 cc92bc3e1 cb9084abd c255e9e55 cbb4b9fd0 c2a55d1df cca285c7c c53c7ccf6 c2981ca87 c6019e8f8 c422bba69 c115b3ee6 c1ee9b6d6 cebff935b c711c2d17 cc0125314 c92295b84 c8d22718f c895c4dc8 c9fb8acc4 c6dd51961 c4cf79c4e ce8f82a7c c5563641e c52bd5eba cd2e31126 c837b6716 ca9259800 c2996eb48 c46ab1ecd c80cfdc03 cafd51637 c1bdf7ca3 c7eb495b3 c6a9be790 cf8df1c11 c0d038d6f c73264a39 c70d5e42a c45e0e2d3 cf9f4e2cf c990131fd c05fce4d0 c1705f29a c4f20e413 c552eaed7 c5ec335ed c26e274e1 c1ec689e9 c4931169b ccba0d85b c3c2941ec c07380d9b ce69d71ee c49dc0fbb c889efe04 c3c17877e c3e572e01 ca7ef2689 c812d043f c66fd7e45 c17b789dd ce204597a cf38c84a9 caeebdbb4 cdf5bae3b c277d80b2 caf8f473b cc3a48514 cf9f8b221 c3ef76943 c99679d51 c82b5ef32 c15ea5424 cf7d371bd c6da3e9cd c4af15400 cd17d434e c180141bc cb5204dfe c11353914 c001d1f87 cb56d4efe c7945895e cd406fb32 c3d59b26f cf9ca635f cfe315e84 cf09cffda c1057f635 cdff5b996 c957638dd cb1230618 cfa6b30c7 c1d743c16 c225fb861 c2c5fdda3 c2176d96c cc98ecaa1 c42f0bab9 ce498897b cde5f6dbb ca47f84fe c506bf143 c11900f1b c46448c81 c8094c666 ca599c389 c8d8f098e c63ba0caa c73ac34de c2e396a9d c4961a90f cccc52449 ca5285d64 c92af0ad8 c88b6836e c1801094a c3c4de9a4 cd1c7d891 c4d53f58d ce1b66721 c1d7f3921 c2c70293f c46465653 c3cc81fce c9a4b22c2 c100bcf14 ca6e59b2a c0dee4501 c0d28e8e1 c144ca2d4 cfc87cbd0 c02ce8b39 cca14b94b ccf96423b c168bdf5b c3816f1a4 cd7172d24 cfbf4f6e1 c44c2ebd3 c19abcece c2b84bb90 c67e31027 c5c75d7a1 c90ec7c13 cd531378d c51a544b3 c8c722f57 cf5df5534 c4fea14a9 c01b10c0e c506da37a ccde7dff6 ccb31c4be c515bffa8 cb89c9ccd ce418fee7 c8375f06c c3bdd05fc c0ff9f96b cecb3b69e c33fbc03b c1e394e13 ca089544f ca487972c c80cf7ca4 ce8f547ca c9e4ed800 c5a924bbd c8308c21e c8ffa24d5 c09827d89 c4fdb94f7 c6f5a7d46 c747504b1 c6a625a15 c9333eb2b cc35e9c71 cd5620ebe ced3c2c50 c276c933a c8383c223 c7f7fc85f c3ed088d0 c85f2b2d0 c3c1a4cbd ccaab2c30 ca45d8ffe c2d30ed26 cccadfea5 c544c35a4 c4761ed8c ceafcedce c40c2aa21 c2e7bd85e cdbf31c93 c1a474252 cb75ad035 c7669e387 c51db2176 c27a175cc cd3b157ec c93b48928 cdea6c4ce cea4f6b1c c50768d94 cb0a10722 c963cee58 c5fed8f85 c28e00aab ca2071108 c4f55b1b9 cdf23148e c61194a39 c2c12d033 c7a09966a cf11268b4 c9df1c7c9 c07ad545b cfad8b5ef c7081a56e c301368a7 c756105af c7af635b3 ccc057d36 c8de8c4c2 ccc85965f cc02205e6 c540e8497 cb340150e cda6704de c7f0c2eca c13d22d36 cef1ce883 ce356e69e c2f6fc5e6 cee9949e4 c4c8ddbf5 cc2a0f52d c947f60c1 c42dd44b0 c98da366d c07e17df1 cde50f0e8 ce0ff83be c43e11224 cccd19bae cf0ef4a9e cd151f8cd ca45e9142 ccb0c5c96 ca2c41e35 ca9a58d07 c7302a066 cf7f7ef4f c12c931e8 c315a7ef5 c0fb10d60 c11a3391d c10a2b7b1 c7e27f9b7 cf121fcdc c7ab76c83 cd2c5af6c c644427c1 cb8a34576 c8505d493 c9360ec42 caf154235 c3cdd9590 ccb902323 cf3e5ccdf cf702763f caf967469 cbc36500a cc4cf25b0 cce30777f c79b64d31 cfad5464c c4c16faff ccc02e655 c4dacbf64 c56c86f39 c1502476a cb0b6c759 c3ffb484e ccb25f35f c009f45d7 c87b03ed2 c19e8a2db cfe1d70e8 c4854eabf c190e8c77 cecf170a7 c7039e6af ce34e8f66 c7551ba0c c17ac10d8 c96fdcc22 c6452c60e cbf981ae7 c73634a56 c9b543586 cfef5453e cf67fdff2 ca728486e c5722a402 c40de8226 c756d2797 c2823126d c9b7cab2b cf2995b77 caf0364e5 c727ae4d1 cd9a5d0d4 ca170ad59 cb4498239 ce422c267 c63d244e2 c6e544d3e ca5e23db2 c3e32c33b c939335d1 cdd3844e2 cfb624b15 c2327946c ca41ea6fa c656aa235 c28386ec9 c9bb73a6b c77127127 cb33fa5f4 c2314952b c2bc3c678 cd368732d ce851a000 c243e9871 cadcafc35 c3317c39d cb13c576e Huge product range for all makes More than 800,000 parts on stock 24/7 Genuine new parts by all renowned manufacturers at the lowest prices Express dispatch within 1-2 business days Safe and flexible payment options ATP Auto-Teile-Pllath Handels GmbH Am Heidweg 1 92690 Pressath / Germany Commercial register: HRB 2867 Local Court Weiden i.d.Opf. VAT ID No. DE814209745 CEO: Peter Pllath Do you need another item? Discover our huge product range in the … ATP SpareParts Ebay Shop
Click here to buy, and to see similar items on eBay
---
Category: Vehicle Parts and Accessories:Car Parts:Ignition:Distributors and Components
Location: 92690 Pressath