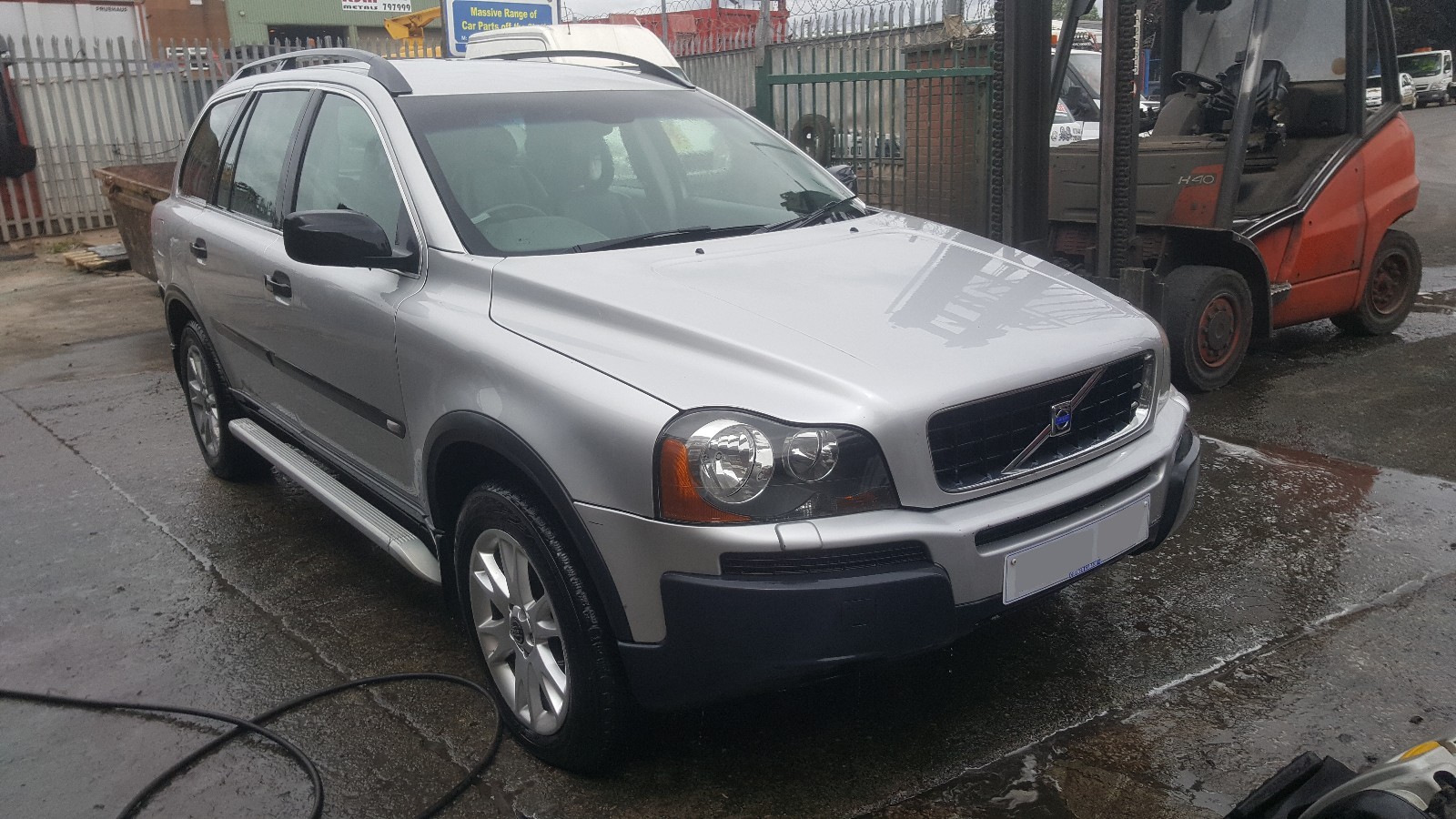 Click here to see similar items on eBay, and to buy.
**YOU ARE BIDDING ON A PAIR OF BOOT STRUTS****THIS ADVERT IS FOR A PAIR OF BOOT STRUTS WE ARE SELLING**
2004 MK1 VOLVO XC90 D5 SE AWD 2.4 20v DIESEL – BREAKING FOR SPARESENGINE CODE – D5244T5-SPEED SEMI-AUTO TRANSMISSION5-DOOR ESTATEPAINT – MYSTIC SILVER METALLIC # 426
CAR HAS BEEN LOOKED OVER AND TESTED THOROUGHLY. CAR RUNS WELL AND HAS NO NOISES OR LEAKS. BUT PLEASE MESSAGE FOR INDIVIDUAL PART CONDITION.PLEASE NOTE YOU ARE BIDDING ON A PAIR OF BOOT STRUTS – SO PLEASE ONLY BUY-IT-NOW IF YOU WANT THE BOOT STRUTS.THE CAR IS UNTOUCHED AND ALL PARTS ARE AVAILABLE FOR PURCHASEPARTS ARE AVAILABLE IN OUR ONLINE EBAY SHOP, PLEASE MESSAGE US TO CONFIRM AVAILABILITY.PLEASE READ THE FULL LISTING BEFORE CONFIRMING TO BUY.UPON PURCHASING THIS ITEM YOU ARE AGREEING TO OUR TERMS & CONDITIONS OUTLINED BELOWPLEASE READ THESE TO AVOID ANY CONFUSIONWE HAVE THE FULL CAR, FOR BREAKING, AND ALL THE PARTS CAN BE FOUND IN OUR SHOP
ALL OUR ITEMS COME WITH A 1 MONTH WARRANTY
ALL ITEMS ARE SENT ON A 2/3 DAY COURIER SERVICE. EXCLUDING ITEMS THAT ARE GOING TO UK OUTLYING AREAS; THAT IS A LONGER TIMED SERVICE, WITH AN EXTRA CHARGE.
ALL ITEMS CAN BE COLLECTED FROM OUR WAREHOUSE (PLEASE MESSAGE FOR DETAILS) & ALSO WE ACCEPT CREDIT CARD PAYMENTS OVER THE PHONEANY QUESTIONS PLEASE SEND A MESSAGE
PLEASE NOTE – DUE TO A CIRCUMSTANTIAL CHANGE WE ARE NO LONGER OFFERING SAME DAY/1 DAY DISPATCH, WE NOW CAN ONLY DISPATCH ITEMS ON A MONDAY, WEDNESDAY AND FRIDAY. THEY WILL STILL BE ON A NEXT DAY DELIVERY (EXCLUDING BUMPERS AND SOME OTHER LARGER ITEMS).SO;IF YOU BUY ON A FRIDAY EVENING/WEEKEND, WE WILL DISPATCH MONDAY.IF YOU BUY ON A MONDAY EVENING/TUESDAY, WE WILL DISPATCH WEDNESDAY.IF YOU BUY ON A WEDNESDAY EVENING/THURSDAY, WE WILL DISPATCH FRIDAY.1.     IF YOU BUY EARLY ENOUGH ON A MON/WED/FRI MORNING, WE MIGHT BE ABLE TO DISPATCH THE ITEM THAT DAY – NOT GUARANTEED.2.     SOME SPECIAL EXCEPTIONS CAN BE MADE – PLEASE GET IN CONTACT WITH US AND ENQUIRE.
Terms of GuaranteeA period of 28 days from the date of purchasein which the part must be fitted and tested if faulty, returned for exchange.If no exchange is available, a refund will be issued on the original purchaseprice less postage & packaging cost.
No allowance will be made for any labour or delivery costs incurred. 
No refunds will be given on parts in good condition supplied by us. 
ENGINES Engine failure of an ancillary component e.g Head Gaskets, Timingbelt/chain, Radiator, Water pump, Oil Pump, Carburettor / Fuel injectionsystem, Ignition system, ECU, Distributor, Coolant Hoses etc, 
ECUs & DISTRIBUTORS all ECUs and Distributors are tested before removalfrom vehicle, therefore no exchange or refund can be given. 
No Exchange or refund will be given if: 
1. Proof of purchase not surrendered i.e. invoice. 2.Out of 28 days warranty. 3. Security marks are not visible/removed. 4. Part hasbeen tampered with. 5. Fitted incorrectly.PLEASE NOTE: DUE TO AN INCREASE IN WRONGLY ORDERED ITEMS (PEOPLEPURCHASING ITEMS TO SELF DIAGNOSE) WE NOW DEDUCT 20% OF THE TOTAL PRICE FROM ANY PROSPECTIVE REFUND THIS ISTO DETER THIS PRACTICE, AND IS A UNFORTUNATE CONDITION OF SALE THAT WE HAVE HADTO IMPLEMENT POSTAGE WILL NOT BE REFUNDED IN ANY INSTANCE PLEASE READ OUR TERMS AND CONDITIONS BELOWPOSTAGE CONDITIONSHIGHLANDS, ISLANDS& BORDERS,IRELAND, OVERSEAS (ALL NONMAINLAND UK)RESIDENTS MUST CALL OR MAIL BEFORE BIDDING AS POSTAGE CHARGES WILL BEHIGHER AND WE WILL HAVE TO GET A QUOTE1.       IMPORTANT NOTICE TO THE BUYER. ALL ITEMS BEING DELIVERED BY THE COURIERMUST BE CHECKED AT THE POINT OF DELIVERY. THE DRIVER HAS TO ALLOW 10 MINUTESCHECKING TIME AS PER THE TNT POLICY. IF THE ITEM IS DAMAGED, PLEASE SIGN PROOFOF DELIVERY AS DAMAGED OR REFUSE DELIVERY AND CONTACT US ASAP SO WE CANPUT A CLAIM IN FOR DAMAGES AGAINST OUR COURIERS. IF THIS IS NOT ADHERED TO,THIS WILL RESULT IN NO REFUND OR REPLACEMENT GIVEN.
Click here to buy, and to see similar items on eBay
---
Category: Vehicle Parts and Accessories:Car Parts:Other Car Parts
Location: Preston